Saturday, April 16, 2005
a Kurdish Skyscraper. Part 2: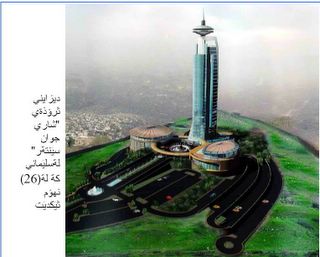 'Beautiful City Towers' Sulaimaniya-Liberated Kurdistan.

Due to the interest i have researched the project i talked about last week: The Beuatiful City Centre in sulaimaniya:
The building will be 26 floors high (78m), with its needle it's going to be at least 110m high. It will have 270 rooms available to guests. The second floor will have a world class restaurant with a capacity of 120 people, while the first floor will have 4 other restaurants with the capacity to seat 1000 people. There will be a sauna, swimming people and sports hall which will be in alignment with Olympic standards, while 2 conferance centres are going to allow meetings of upto 1000 people. There will also be a multiplex cinema aswell as a Video recording/film studio institute which will allow the creation of world class Kurdish cinema and TV.
The major share holder is Farouq Mala Mustafa (no Relation to President Barzani) Who has said that the Shari Jwan project is the biggest financial as well as constructive project in Iraq and Kurdistan. He has also stated that the the project cost will be $45,000,000 and that the design stage alone has cost $1,300,000.
The Sheraton, Hilton, Marriot and Intercontinental hotel groups are currently in talks with the Kurdish investors over who will manage the Hotel side of the bussiness.
Construction begins next week with the leveling of the Re'aya ridge (Girdi Re'aya), while 2 firms based in Dubai and Abu Dhabi respectively are bidding on construction rights with 40 more days until a final tender is named, from that date they will have 8 months to begin end state construction.
My Favourite part: the building will stand on land ear marked for a Republican Palace by Saddam.
There has been a lot of negativety in the posts made here and on Kurdo's site but while i fully understand that the natural beauty of our homeland is sacred and that a skyscraper cannot ever make up for the deaths of the anfal, it is important that we Kurds encourage investment in our nation as every dollar an American or Briton etc. etc. makes in Kurdistan is a dollar which will be defended by their governments.
Thursday, April 14, 2005
Ghaddafi's solution
Wednesday, April 13, 2005
First Kurdish skyscraper!
Monday, April 11, 2005
Mam Jalal, the first non-arab ledear of an arab state?