Wednesday, March 23, 2005
A new Kurdish city?!!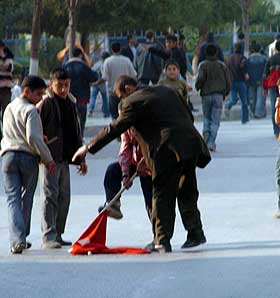 Turkish intelligence officer stops 9 year old flag burners (mersin).

Nawroz this year was really great, i mean we kurds have been celebrating it for 2705 years now, but this years was probably nearly as good as the original one, with 1 million people dancing and celebrating in Amed (diyarbekir) and the celebrations feeling like a real state holiday in liberated Kurdistan (
Northern Iraq
). But then a jolt back to reality as news emerged of a backlash against some Kurdish children in Mersin, who had attempted to burn the Turkish flag. Although it seems really strange to me that the Turkish public is'nt asking itself: Why are 9 year old Turkish citizens burning our flag?- i mean do they ever ask why these south east anatolians (turkish double speak for Kurds) want to break away?.
Anyway it was'nt all bad news as i found about a new Kurdish city through the affair, as it turns out that Mersin is actually part of Kurdistan. It is also on the meditaranean coast, so it turns out that i am a meditaranean in some ways. This may sound strange to you but we Kurds dont really know much about our country because of the artificial borders which have imprisoned us. I mean who else suddenly discovers a new city which belongs to his people? except for a Kurd. Who else has to use the CIA factbook instead of an encyclopedia to find out about how many compatriots he should have?.
Map of Mersin Turkish occupied Kurdistan.

PS: if you havent done so please vote for
Medya Daily Photoblog
at
The photo Bloggies
. This is a really great photoblog by a guy, Medya, in Iranian occupied kurdistan, who litteraly is risking mullah style punishment to bring photos of beutiful Eastern Kurdistan to light.
Kurdo also has a great picture of Sistani endorsed 'Arak' (the Kurdish national drink) at
Kurdo's World
Monday, March 21, 2005
'Iraq will have Sharia'-Al-Jafari.
Ayathollah Seyyid Al-Sistani.

Why are our Leaders trying so hard to rebuild Iraq, in there last press conference both mam Jalal and Kak Massoud stated 4 times that Iraq has been destroyed and that we must make a great sacrifices in rebuilding it. I know that if Iraq is rebuilt we Kurds must participate to avoid disinfranchisement but why should we be the ones to exert all the energy, why must we make all the concessions, why should our rights and interest be bartered to appease Sunnis, Shia or Turkmen. Just this week it has been announced tha Mam Jalal is going to Najaf to attempt to rescue the 'alliance', why is it that our elected ledear has to make a journey through suicide bombings and beheadings to talk to an unelected demigod.
It appeares that Sistani has a problem with Kirkuk being Kurdistani as this Iranian illegal immigrant wants to ensure the integrity of Iraqi soil. Why dont our ledears jsut state that if the arabs want to form a government they are going to have to compromise once, that they are going to have to give Kirkuk back to its ancesteral people. Why should we Kurds sacrifice anything to ensure the establishment of Sharia law in Iraq, why should we exchange our dead for arab democracy? and most importantly what will we gain from the government of AL-Jafari, a man who has said that Iraq wil have sharia law as this reflects iraqs islamic heritage (Der Spiegel-march, 22, 2005). I mean who seriously thinks that we Kurds can retain our secularism when our central government has imposed sharia law, i cant see Sistani allowing arabs to cross the green line to have some 'arak', can you.
It looks like we may be making the same mistakes that our brothers and sisters made in Iran in 1979, where all of the Kurdistani parties as well as those of the left supported Khomeini and beleived his lies about democracy only to have their revolution betrayed by hardline islamic fascists. The liberation of Iraq is slowly being hijaked by the Shia fanatics and after our Peshmarga are disolved what bargaonong position will we Kurds be left with, we must remeber that in iraq no matter who many ballots are cast the gun reigns supreme. Our ledears should abondon the Kafke-esque position of a prisoner rebuilding the prisons walls.