Monday, June 13, 2005
Congratulation's KURDSTANIS
Har bijhi Kurd u Kurdistan

Our 2 president's.

President Barzani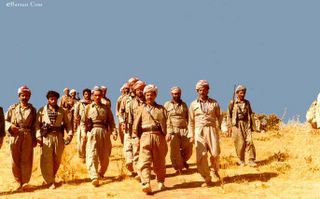 KDP President Barzani, alongside Peshmarga-S. Kurdistan 1989.

I would just like to congratulate all kurdistanis whether they be arabs, turkmens christians or Kurds on the election of our new president Massoud Barzani. Lets all hope and pray he is capable of succeding our last president the immortal Qazi Muhamad. Now all go and party hard.
Har bijhi KURD KURDISTAN wa PESHMARGAKANMAN.
|
<< Home